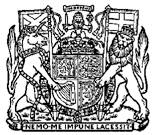 S
St Andrew's Day Bank Holiday (Scotland) Act 2007
2007
asp

2

The Bill for this Act of the Scottish Parliament was passed by the Parliament on 29th November 2006 and received Royal Assent on 15th January 2007

An Act of the Scottish Parliament to establish a bank holiday for St Andrew's Day.
1
St Andrew's Day bank holiday

S
In paragraph 2 (bank holidays in Scotland) of Schedule 1 to the Banking and Financial Dealings Act 1971 (c. 80) insert after "The first Monday in August."— " 30th November, if it is not a Saturday or Sunday or, if it is a Saturday or Sunday, the first Monday following that day. "
2
Short title and commencements

S
(1)This Act may be cited as the St Andrew's Day Bank Holiday (Scotland) Act 2007.
(2)This Act comes into force on the day after the date of Royal Assent.